| | | |
| --- | --- | --- |
| | The Naica Mine (leased to Industrias Peñoles) is located in the north of Mexico, southeast of the City of Chihuaha. This is the largest mine in the country that produces lead, zinc and silver, among other minerals. the entrance is located 1385 meters above sea level in the north of the 12km.-long sierra naica. It began operating in 1794, and formally started exploited minerals as the Naica mining company in 1900. Throughout the 20th century, it was exploited by a variety of firms and it was not until 1952 that it was taken over by Grupo Peñoles. | |



Satellite photograph: NAICA village,
location of crystal cave. (Google Earth)

San Francisco Ramp, entrance to the NAICA mine.
The NAICA caves are located at the center of Industrias Peñoles' Naica Mine in the state of Chihuahua, northern Mexico. The three caves discovered recently at -290 meters, are part of a phreatic system of thermal waters, which allowed for the growth of crystals.

The geological conditions of the area created unique caves of similar characteristics. The crystals' deceiving icy appearance, contrasts with the extremely dangerous conditions and prevailing high temperature and humidity, where humans can survive only a few minutes.

The mining operation in Naica requires of the extraction of groundwater. The normal original water table level is -110 meters. The main challenge is to maintain a complex pumping system in constant operation, to be able to extract groundwater from the -850 meter level, where mining activity is currently taking place.

The pumping system extracts 22,000 gallons of water per minute, draining the caves some 20 years ago. Accidental circumstances lead to their discovery in the year 2000. The extraction of groundwater will stop when the mine is no longer productive; flooding tunnels and caves again, allowing the crystals to return to their natural growing conditions.





The first concession dates from 1794, when it was exploited by local gold-diggers for several seasons, which led to the founding of the municipal section of Saucillo in 1896.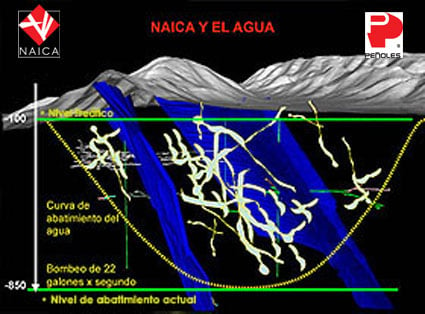 Diagrams of the inside of the mine. The blue line shows the NAICA fault,
the roads inside the mine and a mark at level -290
showing where the Crystal Cave is located.

(Diagram provided by the mine's Geology Department)