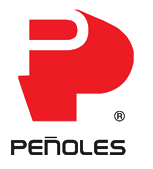 Began operating in 1887 as a mining company. It is involved in integrated exploration, mining, metallurgy and chemical operations. It has been quoted on the Mexican Stock Exchange since 1968. Its shares form part of IPandC and it is one of the largest net exporters in the Mexican private sector.

Main mines: Fresnillo: the world's richest silver mine; La Ciénaga: the richest gold mine in Mexico; La Herradura: the largest gold mine in Mexico; NAICA: the largest lead-producing mine in Mexico; Francisco I. Madero: the largest zinc-producing mine in Mexico.
Main Metallurgic Operation: Met-Mex: World's fourth largest metallurgic complex and largest producer of refined silver and metallic bismuth.

Main Chemical Operation: Química del Rey: largest sodium sulfate producer in the world.

It has received the following awards: For four consecutive years, it was awarded the Socially Responsible Firm Prize. For two consecutive years, it was given the Ethics and Values Prize. Quirey, Tizapa and NAICA received the Best Practices Award in 2003, and Herradura in 2004.

Peñoles has expressed its commitment to the study and conservation of the Naica Crystal Caves through the formalization of the Agreement for carrying out the research, exploration and dissemination activities undertaken by the Naica Project.

It has served as a "contributor" through Article 226 of the Income Tax Law to support production of the "NAICA" film.
The "Naica Project" thanks the authorities as well as the NAICA mine personnel and employees for their confidence, support, collaboration and encouragement.